Be one of the first to see the
All-New Mustang Mach-E in person, here at Hasset Ford.
You're invited to our Mustang Mach-E Event being held exclusively at Hassett
 on Wednesday, October 28th from 11am - 5pm.
This is your opportunity to explore the ALL-NEW, ALL-ELECTRIC MUSTANG MACH-E prior to the vehicle arriving in dealerships. Built from the Mustang heritage, the Mach-E has all the power and passion but zero emissions! Keeping your health and safety in mind, one-on-one appointments are available with an expert Product Specialist.

Please schedule your appointment today by clicking here or calling 888-354-2405.

We hope to see you on October 28th!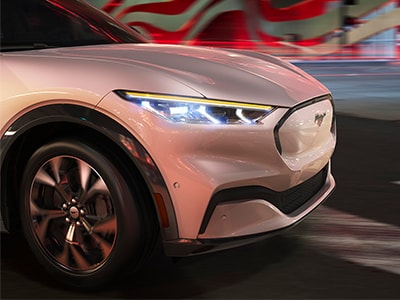 Seamless Technology
Making its debut in the Mach-E is the next-generation SYNC communications and entertainment system, a sleek and modern interface that uses machine learning to quickly learn drivers' preferences and gets even better over time, thanks to advanced over-the-air updates. Next-generation SYNC's 15.5-inch screen and adaptive dash card interface ditches complicated menus, making it easier to access features with touch, swipe and pinch controls that every smartphone user will be comfortable with.
Hassle-Free
Mustang Mach-E will be available with standard and extended range battery options with either rear-wheel drive or all-wheel drive powered by permanent magnet motors. Equipped with an extended range battery and rear-wheel drive, Mach-E has a targeted EPA-estimated 300 miles of range.* And the connected navigation system also will identify up-to-date charging locations during trips and prompt owners to charge at the most convenient points on each drive - all to help ensure they don't have to be anxious about how much range they have.**